Dominique Renaud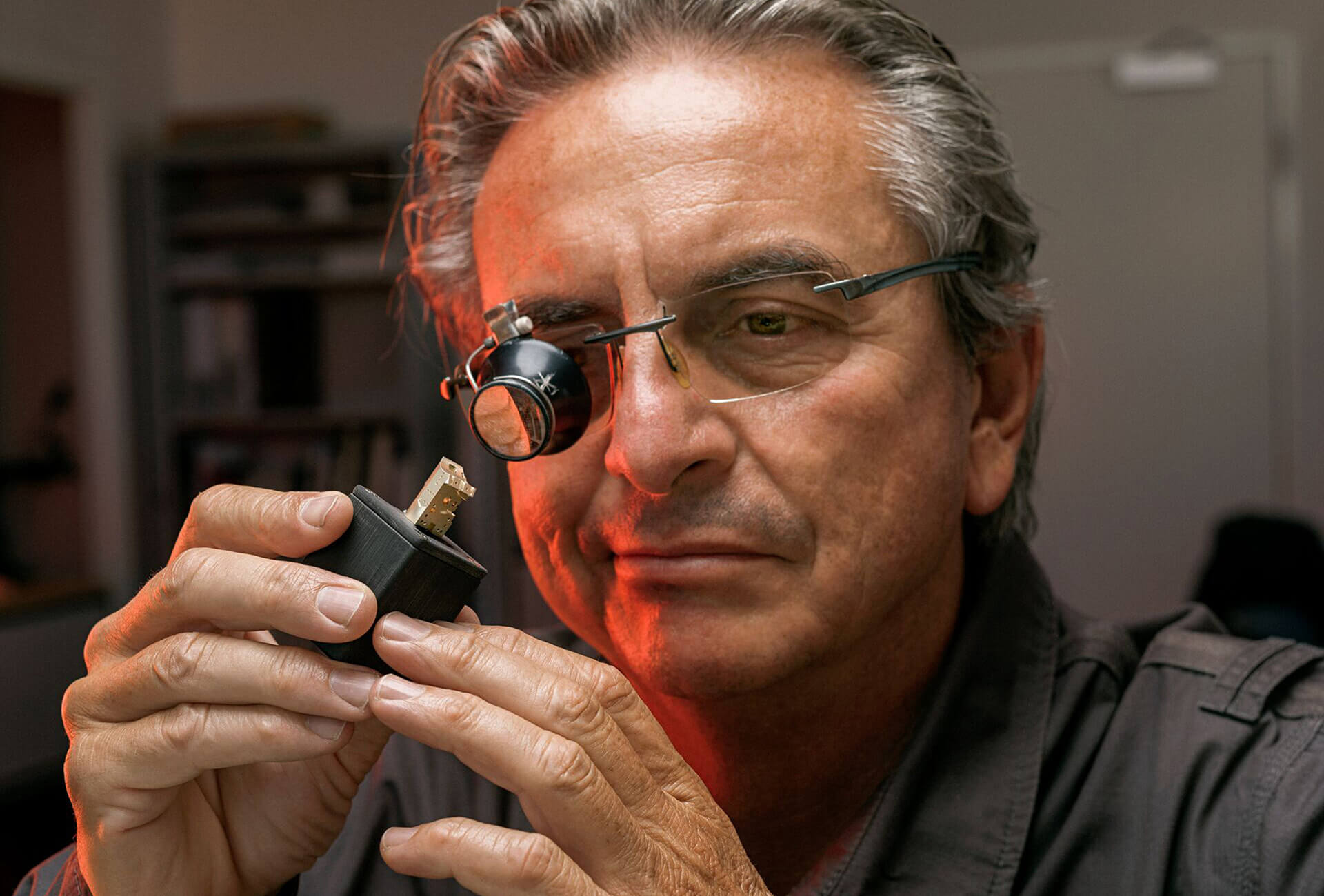 I have come to know Dominique Renaud's name as he is well known when he created the workshop APRP (Audemars Piguet Renaud Papi) founded in 1986.  Dominique left APRP in 2000 and retired for over 10 years, but in 2017 he announced the launch of his own brand. His DR01 concept revolutionizes mechanical watchmaking with a new oscillator, escapement, and other innovations. It replaces the traditional balance with a blade resonator, offering low friction and stability. The concept combines low amplitude, high frequency, and longer power reserve for increased precision. Dominique Renaud's innovations was monumental for the future of horology.  Most recently, we have seen the master has another creation collaborating with the young brand Furlan Marri on its newest perpetual calendar module.  But I m sure you can find out all sorts of information about Dominque Renaud's professional achievements on the internet.  I had an interview with the master himself and I wanted to learn more about his early beginnings.
Dominique Renaud was born in 1959 in Besançon, a major watchmaking center of its time. His childhood was filled with the intricate workings of timepieces, thanks to his father's profession as a watchmaker who had graduated from the esteemed National School of Cluses. Additionally, Dominique's mother, from the Vallée de Joux, had attended a technical watchmaking school and specialized as a balance-spring adjuster.
The romance story between Dominique's parents began in the prestigious Vacheron-Constantin factory in Geneva, where they both worked. Their shared passion for horology not only kindled their relationship but also paved the way for Dominique's future. It was in Geneva that his parents met and fell in love before eventually moving to Besançon, where his father assumed a significant role as the department head at the Center Technique de l'Industrie Horlogère.
Growing up in such an environment, it was only natural for Dominique to develop a profound fascination for watches. His mechanical inclination manifested early on, as he eagerly disassembled and studied timepieces, driven by a deep-seated desire to modify and enhance existing mechanisms in his own unique manner.
In 1975, Dominique pursued his passion further by enrolling in the national watchmaking school in Besançon. During his time there, he was fortunate to have exceptional mentors, such as Monsieur Taillard and Monsieur Verdi, renowned for their expertise in watchmaking. Their guidance and tutelage honed Dominique's skills and deepened his understanding of the intricate art of horology.
After completing his education, Dominique embarked on a journey that took him to various watchmaking establishments in Besançon. He gained practical experience by working at a LIP technical station and several after-sales service workshops, further refining his craftsmanship and expanding his knowledge of the industry.
However, Dominique's quest for horological excellence led him back to Switzerland in 1979, where he sought to reconnect with his mother's family. It was in the picturesque village of Le Brassus that he found employment at Audemars Piguet, a revered watch manufacturer. There, he focused on creating skeleton watches and complicated timepieces, notably exploring the intricate workings of perpetual calendars.
During his five years at Audemars Piguet, Dominique's talent and passion caught the attention of Giulio Papi, a fellow watchmaker who shared his visionary mindset. Recognizing their potential for greatness, the two trailblazers made the bold decision to depart from Audemars Piguet and establish their own company, aiming to push the boundaries of complication watchmaking.
This pivotal move marked the beginning of an extraordinary chapter in Dominique Renaud's career. His relentless pursuit of innovation and his unwavering commitment to craftsmanship propelled him to new heights of success. Dominique's timepieces, known for their technical prowess and aesthetic beauty, captivated the industry and garnered accolades from discerning collectors worldwide.
Today, Dominique Renaud stands as a true luminary in the horological world. His name has become synonymous with creativity, ingenuity, and a relentless pursuit of perfection. With each new creation, he continues to redefine the boundaries of watchmaking, leaving an indelible mark on the art and science of horology. Dominique's legacy serves as an inspiration for future generations of watchmakers, ensuring that his innovative spirit will endure for years to come.  It would be interesting to see more young brands like Furlan Marri and experienced Masters like Renaud making products that will shake the industry, we shall wait and see the ONLY WATCH Piece coming up later in the year.