Unveiling the Cool Collab: Audemars Piguet x 1017 ALYX 9SM Watch Collection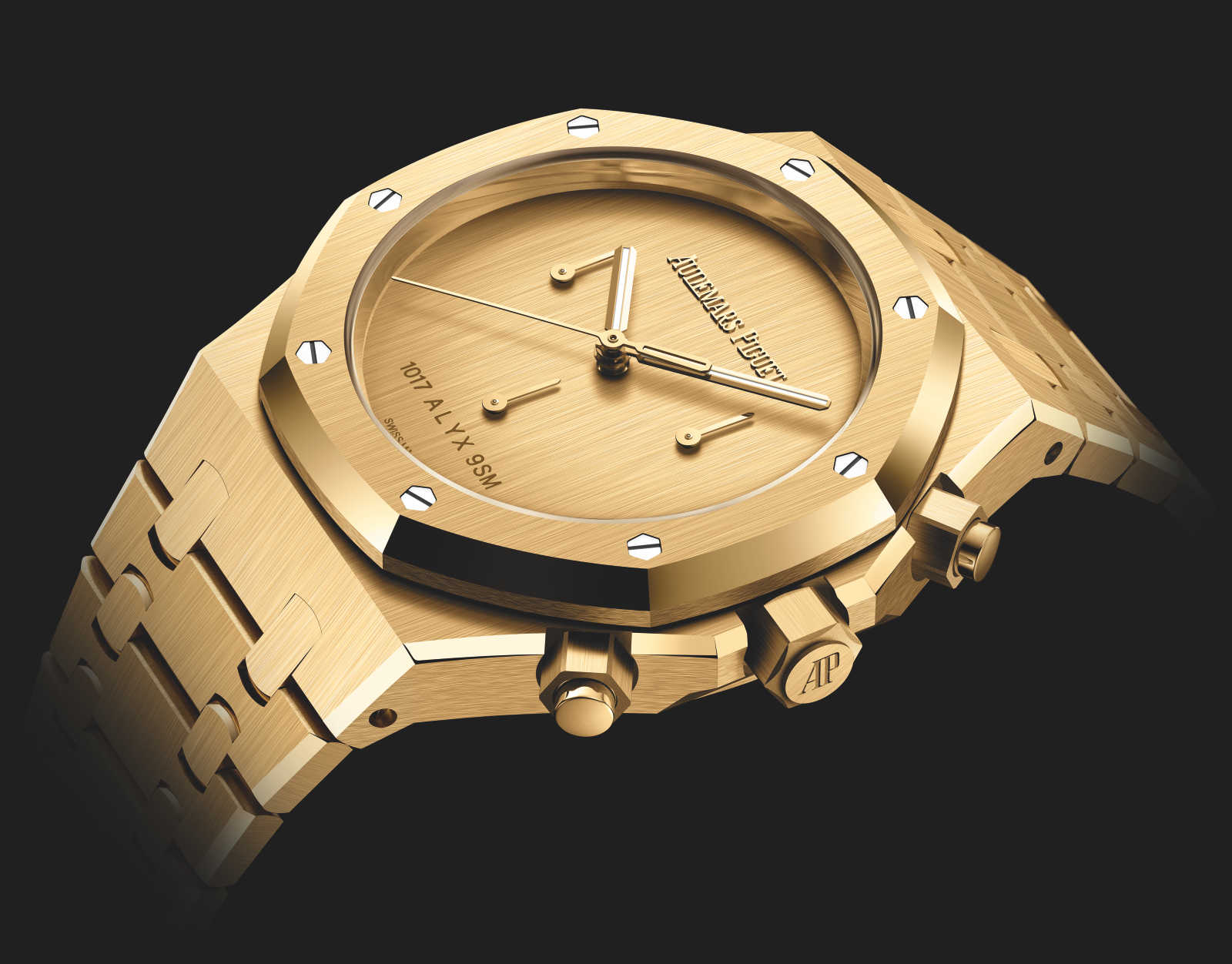 On August 24, 2023, Audemars Piguet and the fashion crew 1017 ALYX 9SM teamed up for a seriously cool project. They dropped a bunch of new watches that are part of the Royal Oak and Royal Oak Offshore families.
1017 ALYX 9SM, led by Matthew Williams, is all about artsy vibes, music, photos, and style. Dude's been in the game for like a solid ten years.
Audemars Piguet – they're the  pros and have been switching things up lately. They're not sticking to the old-school vibes anymore. They're going big on bold designs and incredible collabs. And this mash-up with 1017 ALYX 9SM is straight fire. They're all about textures, shapes, and bringing that modern edge.
These watches might not jive with everyone, but they're throwing in a fresh twist. They're tossing the regular numbers off the watch face and keeping it slick. It's all about rocking shades of one color and keeping it chill. You're mostly getting the brand names and the hands – minimal and smooth.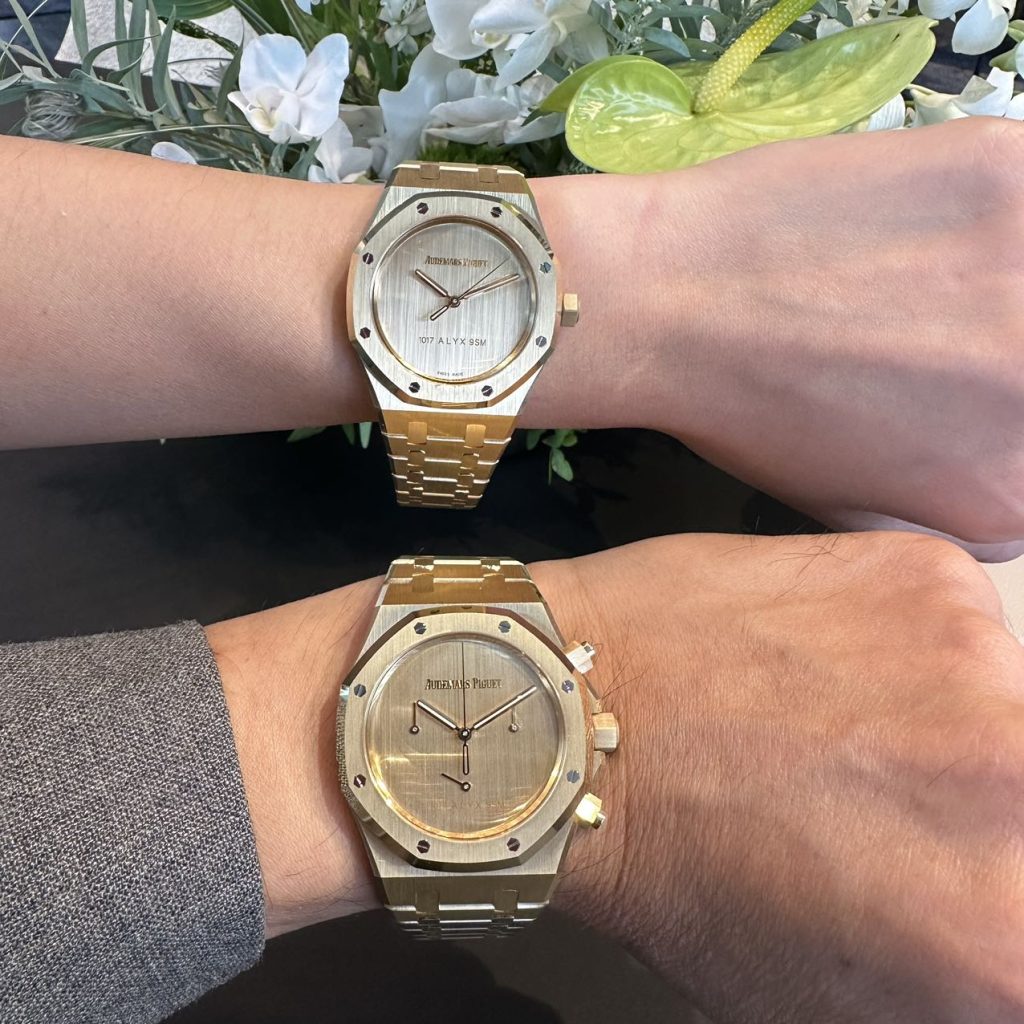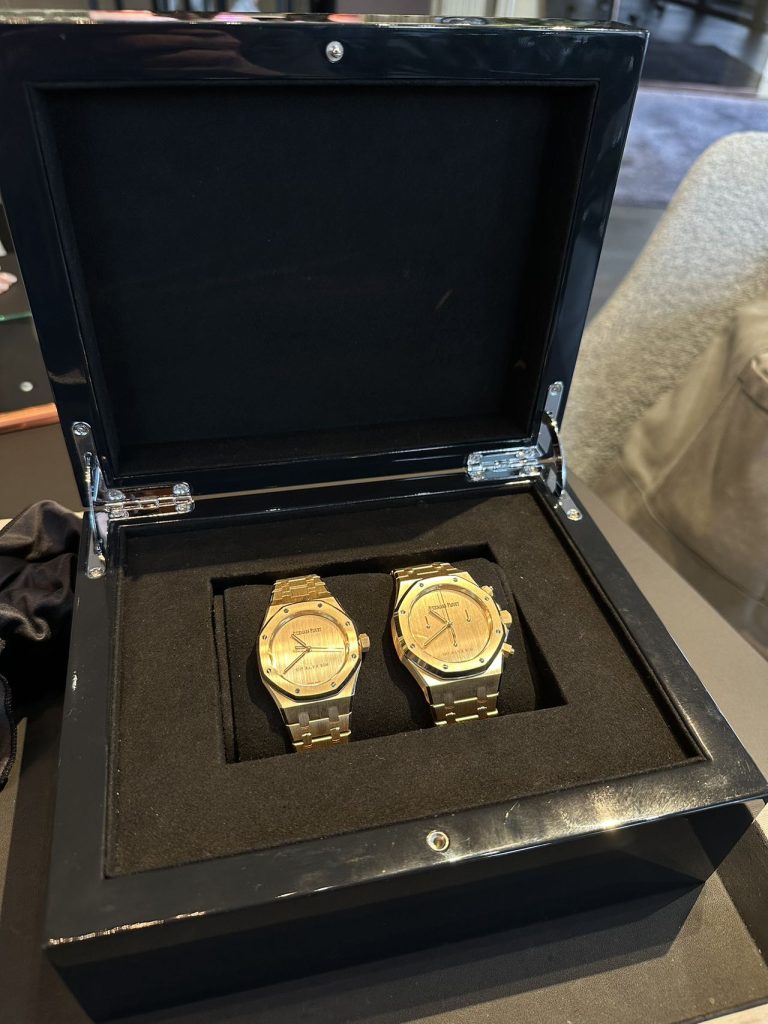 Alright, time to shine the spotlight on two main pieces. Both these watches are decked out in 18k yellow gold. One's a self-winding watch (reference 15550BA) and it's a beautiful 37mm size. The dial's has that clean look with gold hands that catch the light, plus the "Audemars Piguet" and "1017 ALYX 9SM" names on it. Then there's the Royal Oak Selfwinding Chronograph (reference 26240BA), it's a tad bigger at 41mm. They're absence of the usual counters and only keeping the hands moving at 3, 6, and 9 o'clock.
These watches are the ultimate combo of 1017 ALYX 9SM's swag and Audemars Piguet's finesse. It's like they're saying, "Let's do something wild and change the game!" And they totally nailed it. These watches are shouting that luxury can be hype without being all uptight.
If you're all about watches that break the mold and bring a whole new vibe, these might just be your thing. They're mixing up styles and throwing down fresh ideas, and that's why they're making waves in the watch scene.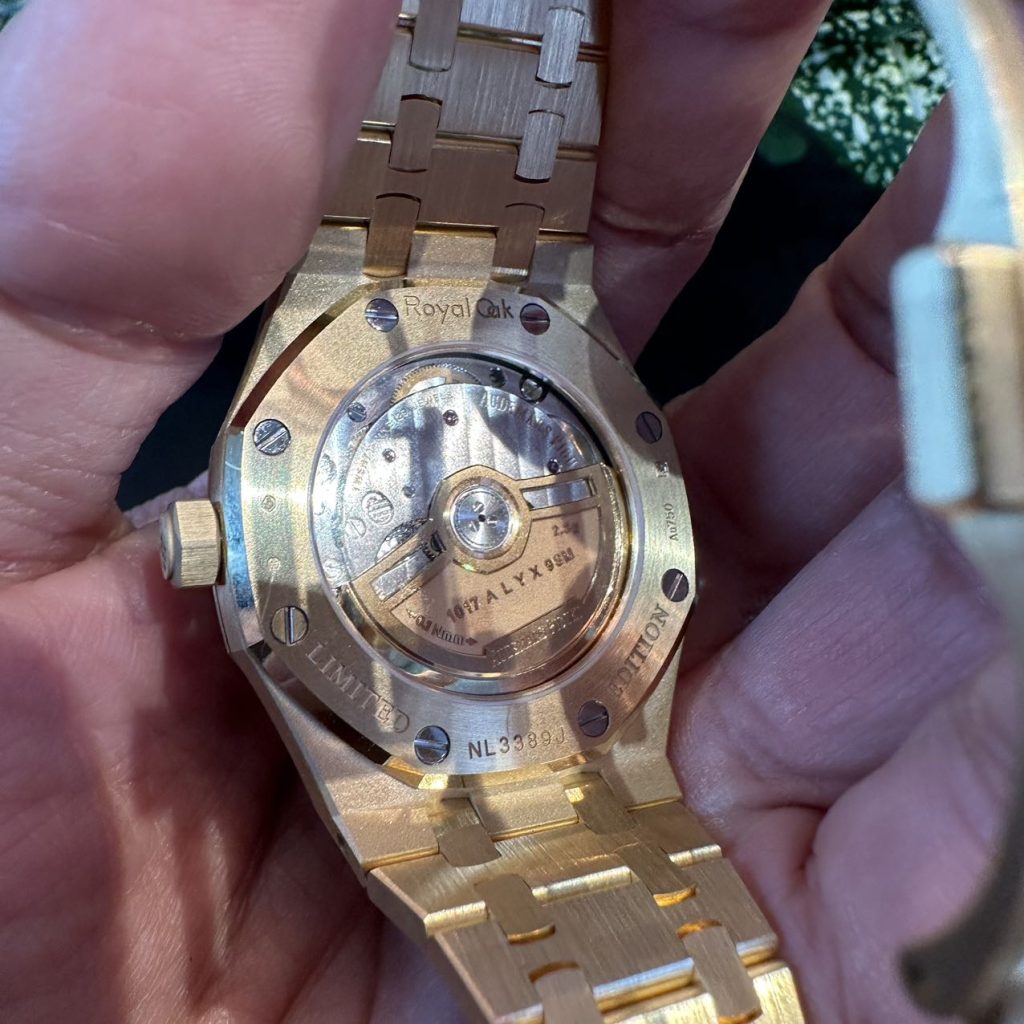 Besides the line up; Audemars Piguet and Matthew Williams have designed a one-of-a-kind 41mm Royal Oak Selfwinding Chronograph. This watch features a two-tone case of 18k yellow gold and stainless steel, a black PVD-coated gold dial with signatures of both brands, and yellow gold chronograph hands. It will be auctioned at the collaboration launch event on August 24 in Tokyo.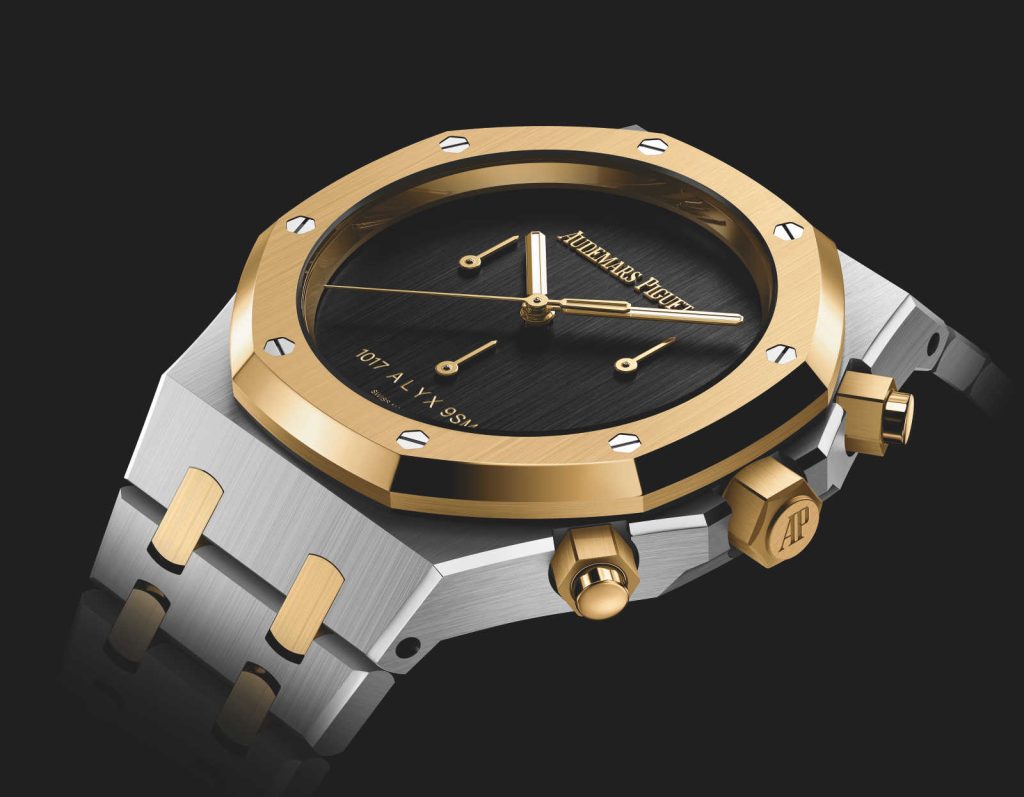 The watch details:
**RO 37mm Selfwinding**
– Case: 37mm x 9.1mm, 18k yellow gold
– Crystals: Sapphire, front and back
– Water Resistance: 50m
– Dial: 18k yellow gold with vertical satin finish, gold hands and markers
– Movement: Calibre 5909, automatic, 4Hz frequency, 60h power reserve
– Bracelet: 18k yellow gold
– Reference: 15550BA.OO.1356BA.02
– Price: CHF 61,000 (excl. taxes)
**RO 41mm Chronograph**
– Case: 41mm x 12.4mm, 18k yellow gold
– Crystals: Sapphire, front and back
– Water Resistance: 50m
– Dial: 18k yellow gold with vertical satin finish, gold hands and markers
– Movement: Calibre 4409, in-house automatic integrated flyback chronograph, 4Hz frequency, 72h power reserve
– Bracelet: 18k yellow gold
– Reference: 26240BA.OO.1320BA.01
– Price: CHF 75,000 (excl. taxes)