Jaeger LeCoultre Manufacturer Visit 2022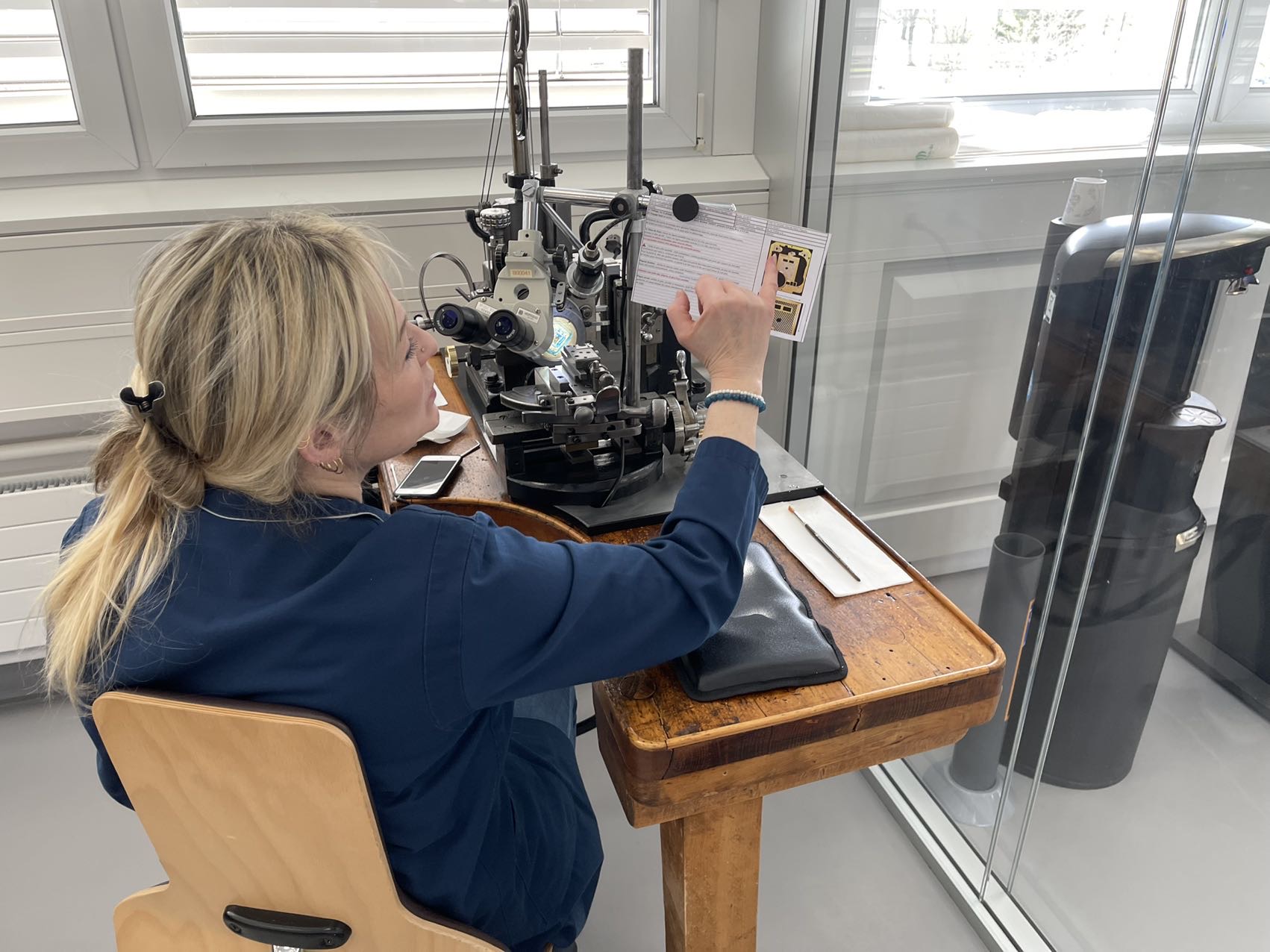 Jaeger LeCoultre manufacturer visit 2022
Jaeger LeCoulte – a brand name every watch enthusiast knows.  I have always been a fan of Jaeger LeCoultre, not only do they have some fantastic watches, but they are a true watch brand that do not produce sunglasses or any other lifestyle products; I find their manufacturing ability fascinating.
It was only a decade or so ago, brands started to use the term "In House" movement, lifting this process to an exclusive level.
In fact, many big brands on the market do not always use an "in- house" movement.  I m not referring to the micro brands or independent guys; I am talking about some big players.  Many of the top brands did not have an in house manual chronograph movement, but since the watch making landscape has shifted, these big names have started making their own movements in the last decade or so.  During this period, while the watch industry morph into a much more marketing driven environment, one brand remain true to its core is JLC.  One refreshing element about JLC is that they never really shout loud to say they are a brand that is all "in-house", they just quietly doing the thing they do.
I m not going to go deep into JLC's history, but I guess most watch collectors and enthusiasts know that JLC not only produced their own movements, but they also supplied movements to many iconic pieces for other brands as well.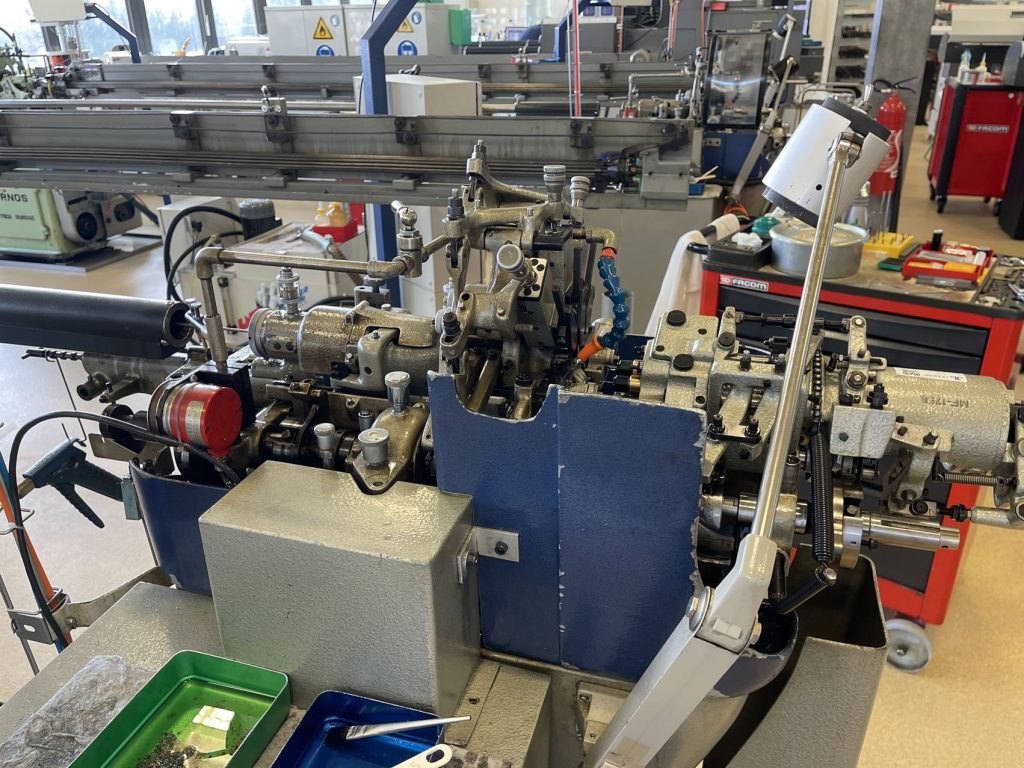 This year (2022) I had the opportunity to re-visit the manufacturer located in Vallée de Joux, Switzerland; my previous visit to the manufacturer was in 2015.  There were quite a few updates to the facility and I am sharing the most interesting bits here with you.
JLC manufacturer is located in Vallée de Joux, valley of the Jura Mountains mainly in the Swiss Canton of Vaud.  Located 48 km north of Geneva and northwest of Lausanne, its mean elevation is over 3,300 feet (1,000 m).  The mountain roads from Geneva to Vallée de Joux is simply stunning and I have always wanted to visit JLC on a motorcycle, perhaps sometime in the future, I will do that.
The current facility houses 1000 people in a 25000 sqm space.  In this location, there are over 200 watch makers with 180 different skills sets. Back in 2015, the enameling workshop was detached from the main facility, now they have moved into the main facility.  These numbers are mind boggling, not many brands can make such claims.
Profile turning workshop – where the raw material rods are received and stored.  These are all 3 meters long in different diameters and different alloys.  These metal bars are then cut into different smaller pieces to prepare for producing various components.
There are two types of machines being used here – CAM machines from the 1960s that uses a disc (approx. 1 cm) to turn metal bar, and CNC machines that can do more a complex machining (some can perform up to 14 axis of turning / cutting).  Enormous amount of setting and programming is involved, so its not purely workmanship but a lot of computer technology goes on here to get the most accurate and precise components made.  Escapement wheels other gear train wheels and pinion are made here.  The tools to cut is called Fraise – in French (Strawberry in English)
Pallet lever assembly workshop – JLC is one of the very few to assemble in house and in a traditional way.  Using microscopes, the technicians places one ruby on each side of the pallet lever.  By using a special glue that is made from the secretion of a type of butterfly from South East Asia; by using a heat lamp, the glue is softened and applied by wooden sticks.  Once its heated, they use the sticks to create some strands, and put onto tools to glue onto the pallet.  Advantage of this organic glue is very long lasting (Unlike chemically produced glue) and also able to remelt it up to 3 times.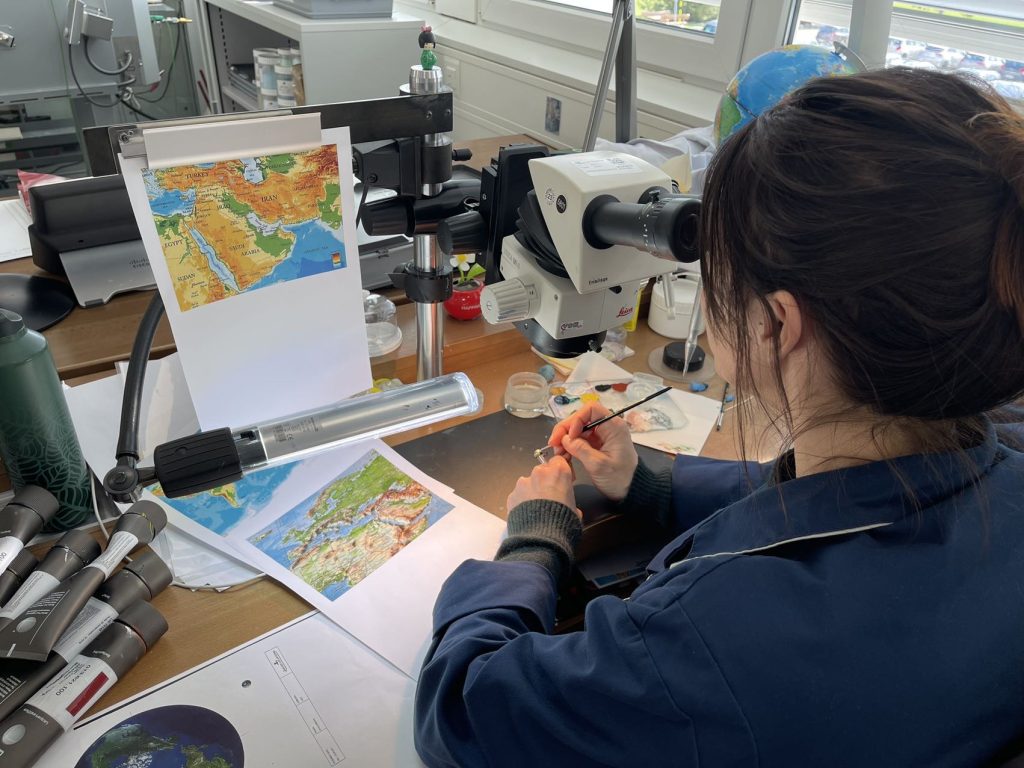 Platine et Ponts (Bridges and Plate) Workshop –
Different steps of decoration and machining is done in this workshop. Once the raw components is received, it will go thru drilling holes and machining here.  The holes will be drill at the top side and bottom side, then cutting it out of the mold.  Sandblasting, engraving, rhodium plating are all performed at this stage.
Cote de Geneve, perlage, stippling, sunburst engraving are performed here as well.  All components, whether visible to the final customer or not, will be decorated (Note, not just the high end category, but every category at JLC)
Complication Workshop – almost everything is done manually.  The famous Gyro tourbillon cage is done here.  Repeater components such as the racks, gongs, hammers, are done in this room as well.  Electro erosion machine are used to cut and produce very tiny components (these are too small for CNC machines to produce).  The Electro Erosion machine uses a very tiny wire (made of brass or tungsten, depending on the material being cut) by using electricity, it produce an arc to cut the components in the smallest and most accurate way.
CNC machining sometimes leave behind a deformation, or small discrepancy, but Electro Erosion is always accurate and perfect.
Once the wire has made a cut, it cannot be reused.  Showing under the microscope, you can see this wire is used.  But since it's brass material, its collected and will be recycled, practicing sustainability commitment by JLC.
This workshop is much smaller in size with less people; obviously production of the very high complicated pieces are much smaller in volume as well.  Inside this complication workshop, the decoration department only uses hand decoration and finishing.  I was able to see how the Perlage (sometimes called Stippling or circular graining) decoration is done; the process is performed prior to the setting of rubies.  An abrasive material (called cutex) is used and a hand operated machine was used to make these circular impressions, its amazing to see because there is no computer guidance or a pattern to follow, it really is unique on each piece produced.
Other high quality hand decoration process also takes place here, such as Chamfering, Engraving, Polishing, Stone setting and Enameling
Chamfering is an especially meticulous finish that significantly contributes to the beauty of the movement.
It accentuates the shape of the components and creates a play of light.
Executed by hand, it is the epitome of authentic watchmaking.
Chamfering involves eliminating the edge between the top surface and the sides of the component by making a chamfer (or bevel) which is then polished.
Enameling is another must-see craft if you have the chance.  The distinctive nature of "grand feu" enamels is because they reach their melting point at a far higher temperature (820°C – 850°C). This technique makes them pure and guarantees the longevity of the resulting products.
The different colors of the glazes come from mixtures of metal oxides which have been ground with the different silicates. It is these different metallic oxides which will constitute the palette of the enameller and which will condition his very particular work because: – At 15 degrees an enamel presents a certain color, at 800 degrees it will turn and oxidize in taking on its final color, which requires transposition.  Each color will be put in the oven at a temperature of its own. As a result, it is necessary to do many firings starting from the highest temperatures and to know your palette well to mix the only colors that can turn out to be translucent.
And oftentimes, error will occur and it means the process will have to take place all over again, a true test of skills and patience.
I want to give thanks to the JLC Hong Kong team in organizing this visit.  As the world move forward from the pandemic, many countries are still having restrictions on traveling; I hope my visit can at least bring you some interesting discoveries.  You can see some of the photos I have taken, let me know if you have any questions.